---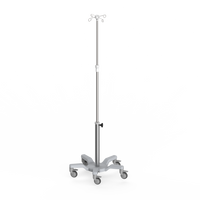 The roll stand  can be used for holding infusion pump , small ventilator , tourniquet
Load capcity: 24.8KGS  ( 55lbs)
※    The height of small tray is adjustable from 28" to 41 " from the ground

※     The upper cable/hose hook is adjustable from 3" to 55 " above small tray . The highest position of the cable hook is about 96 in from the floor.

※     2nd basket  and AC adapter holder are optional with extra cost.
※     Manufactured by FDA registered factory  for healthcare use

※      Usable area of tray is about 8" wide and 5 inch deep .  basket included.

※     60cm (24") dimater base (Various bases are optional)
※     5x 7.5cm (3") dimater dual wheel   medical  casters with brake for easy transition over uneven surface, anti-static